Under extreme conditions, such as the high salt contents at the salt extraction locations of Frisia Zout, high demands are placed on lighting. To comply with this, both during installation and in the future, we are strict about the luminaires to be used, their maintenance requirements and durability. Everything to build and maintain a long-term and successful collaboration.
Frisia Zout BV, part of Esco European Salt Company, is located in Harlingen. The company extracts high-quality salt for the food and chemical industry in particular, with a capacity of 1.2 million tons per year. Frisia Zout BV is an important factor for the port of Harlingen, with a share of approximately one fifth of the supply / transport of the entire harbor. In recent years, the salt extraction under land has been phased out and will be discontinued on January 1, 2022. From the second quarter of 2019, work has started for salt extraction in the Wadden Sea. Important developments, in which Unique Lights is proud to play our part.
Salt + Moisture = Corrosion
One fact is clear; the salinity is immensely high in the spaces that required new lighting. In the case of Frisia Salt, the salinity at the extraction site is about 5x higher than at sea. In combination with moisture, this high salt content is disastrous for metal, because the risk of corrosion is very high. If the luminaires used cannot withstand these conditions, the work-environment becomes unsafe. It is therefore important that all luminaires are tightly sealed in order to prevent moisture penetration. "We therefore tested all individual parts of the luminaires to ensure that the installation is and remains completely safe." says Dirk Elgersma, Senior Account Manager.
Economical and future-proof
Certification of the lights is a determining factor in this. "In the past, some luminaires with a light certification had been installed. That creates unsafe situations for the staff. " That is why the highest certification is now applied to the lighting in the rooms with the highest salt contents. And in rooms with lower requirements, the lighting is adapted accordingly. "We could of course also use the same luminaires here, but the client would notice in their budget. We prefer to offer the cheapest option for the customer."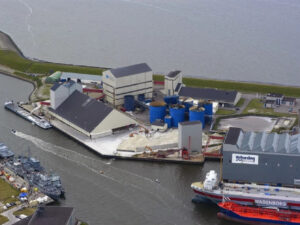 Frisia Zout in Harlingen, NL
Partly for this reason, the aim was also to avoid high maintenance costs in the long term. "The ceilings in some rooms are up to 20m2 high. If maintenance is required, scaffolding must be built for this. So you have to avoid that as much as possible." The low maintenance requirements of LED lighting therefore make it the perfect choice. However, it is also important in choosing which LED luminaires are to be used. "We always try to look further than the customer may have already done. As such, we often foresee problems that the customer has not yet considered." As such, we help think up solution which helps the client to save costs in both the short and long term.
A collaboration based on trust
This way Unique Lights offers significant added value for the customer. It is partly for this reason that Unique Lights has been able to supply all lighting for Frisia Salt for about 4 years. Customer satisfaction is central in building this long-term partnership based on trust. "Sometimes I receive a call with a new delivery request. Which luminaires are needed is left up to me. "We trust your insight" they say. That's what makes it worth it."
A long-term perspective also plays an important role in this. With installing the luminaires we not only look at the current situation, but also at how future processes can affect the current installations. And of course how possible problems would be solved: "It's still technology after all, so things sometime break. The most important thing is that you have a solution and are quick to implement it."
Act quickly
What exactly that solution is, is different every time. The most important thing is that the customer can continue with production, or in this case salt extraction. Problems with the lighting that require halting production for a longer period of time must be avoided at all costs. "This often requires us to act quickly. But that is precisely where our strength lies." As a 'small' organization, the lines to installers, engineers and producers are much shorter. In this way, all parts of the chain can be contacted and put to work immediately. "We'll take care of it!"
The collaboration with Frisia Zout has been going on for about 4 years now and so far we have collaborated on beautiful projects that we work on with great pride. We obtain positive confirmation for our work from such long-term collaborations. So we would love to do more! Curious if we can work together in the short or long term? Get in touch with us!