Unique lights (NL) stunt with LED
The small Unique Lights in Sneek is a big name in the world of LED lighting. It brings in one appealing job after another.
Somewhat hidden in industrial estate De Hemmen in Sneek is Unique Lights, one of the first professional companies in the LED industry. It started ten years ago with LED in the form of a fluorescent tube, "but now we are many steps further," said director André Feddema.
The showroom bears witness to this: explosion and fire-resistant LED luminaires for the oil and gas industry and other high-risk environments, LED lamps for wind turbines and industry. LED luminaires that can last for 100,000 hours, small but bright lamps that are used in high lighting columns and on oil rigs – just to name a few examples.
All over the world
The products are shipped all over the world, because Unique Lights is specialized in industrial projects. Large parties are now able to find the relatively small company in Sneek, a matter of word-of-mouth advertising and good reference projects, Feddema thinks, although customer acquisition via trade fairs is certainly not strange to him.
The same large parties know that LED lighting is more economical and more sustainable because less maintenance is required. "Those big boys can calculate well. Energy is expensive, as is maintenance. For intelligent LED systems, the payback period of the investment is two to five years "," says Feddema.
"Intelligent" means that the LED lighting is fully adjustable. The lamps light up when the operator wants them to, dim when possible, and can be controlled wirelessly if necessary. Consumption can of course be read at any time.
André Feddema: 'Soon we will have lampposts that also immediately measure air quality.'
"Developments in lighting systems are going very fast," said Feddema. "We will soon have lampposts that also immediately measure air quality by installing sensors. Or a lamp in your bedroom that you use your voice to command to wake you up at a specific time. ""
The principle of LED is especially important for industrial clients: the "light emitting diode" – a piece of electronics that emits light when current passes through it – brings light where it is needed. "You can use mirrors in the luminaires to focus it very specifically on places. Conventional lamps give stray light, which causes the well-known light pollution. ""
LED also retains its capacity for longer. Conventional lighting is at 70 percent of its original capacity after 10,000 burning hours, LED lamps take up to 150,000 hours. "That gives enormous savings on maintenance and replacement," said Feddema.
Great players
With an annual turnover of around 3 million euros, Unique Light is one of the larger players in the Netherlands in its field. It designed the lighting for the halls of KLM Cargo, the CocaCola factories in Dongen and Antwerp, Sportstad Heerenveen, the NAM gas compression station in Aldeboarn and is now working on the lighting for the new Reimerswaal maintenance yard to be built in Vlissingen.
Work is also currently underway on a number of prestigious projects, including the lighting for the new tank terminal of the French Rubis in Rotterdam. "Good light is essential for safety in such locations," says the Unique Lights director. Part of the lighting on the largest lifting vessel in the world, the Pioneering Spirit of the Swiss-Dutch owner Allseas, was also supplied by the Sneker company.
This also applies to one of the largest European carpet producers, Condor Carpets with branches in Hasselt and Genemuiden.
Unique Lights is mainly active in the Benelux, but has also recently won a large order in the Caribbean: it designs and supplies the complete interior and exterior lighting for the new prison on Bonaire. "That will be our calling card for that region", Feddema beams.
The main activities of Unique Lights are advice and engineering, or "unburdening" customers in the field of light.
The installation is usually at the expense of the client. What is new is that the company, in collaboration with financial partners – but under its own name – takes care of the financing of the lighting projects.
"The client then pays a fixed monthly amount. In that case he does not buy lamps, he buys light. ""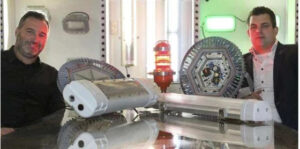 Marcel van Gemst and André Feddema
Bron: Leeuwarder Courant – 26 November 2016 – René van Baal – Economie